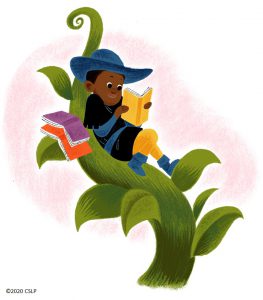 Even in a brand new normal, Calvert Library still wants to make sure that everyone takes the time this summer to read! Reading not only stimulates your brain power and memory, it is also great for stress reduction and mindfulness. It helps students to bridge the gap to the new school year and families spend quality time together. So, join us again this year to show that #calvertREADS!
How to Play—three options!
• Sign up on the Calvert Library Beanstack website.
• Download the free Beanstack Tracker app in the Google Play or Apple store to play on your phone or tablet.
• Call the library at 410-535-0291 to log your minutes and activities by phone!
New this year:
Log Minutes
We are asking everyone to log the number of minutes that you read this summer. Can Calvert County reach one million minutes together?
Virtual Events and Programs
Much of our programming will be virtual this year—everyone can participate no matter where they are!
New App Features
The Beanstack Tracker app will help you count your minutes with a timer that automatically uploads your reading time to your log.
Choose Your Own Prizes
Earn tickets for every badge you are awarded. Use these tickets to enter virtual drawings for lots of great prizes!