Calvert Library Mobile Services (CLMS) brings the library into the community! We recognize that there are many barriers to transportation and library access, so our team of four CLMS librarians strive to bring equitable services and materials throughout the county.
Whether it's monthly visits to homebound customers or attending community events, we aim to build connections in our community and deliver materials catered to your information and entertainment needs. Some big things are in store! CLMS is a growing department and we are excited to expand our services and community reach this summer. 
OUR SERVICES
Monthly Community Bookmobile Stop – A monthly 30-120 minute visit from the Bookmobile open to the entire community.
Registered Family Child Care – Year-round monthly delivery of children's books and a 20 minute monthly storytime during the academic year. 
Homebound service – Receive monthly delivery of library materials and personalized reader's advisory services. For customers who are unable to come to the library independently.
Child Care Center – A monthly 30-60 minute visit from the Bookmobile for use by the students and teachers at the hosting Child Care Center.
Special Public Community Event –  Special events are evaluated based on connection to the Library mission, availability, visibility and suitability of the site for the Bookmobile.

MEET THE FLEET
LIBRARY SUV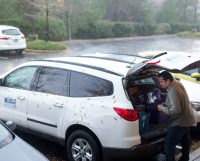 If you see this vehicle out and about that means a librarian is on their way to visit a homebound customer or a licensed family child care provider. 
Eligible homebound customers receive monthly delivery of new materials straight to their door. CLMS staff do extensive readers advisory with each customer to ensure they receive the right kind of books, movies, magazines–you name it!–every month.  For extra safety for staff and customers during COVID-19, monthly visits have shifted to a door-drop model and reader's advisory and other library services happen over the phone prior to each scheduled visit. 
Visits to licensed family child care providers include exchange of curated preschool books as well as a 20 minute storytime. Early literacy and school readiness are some of the building blocks of a strong community. Storytimes are currently all being held outside for extra safety during COVID-19. Providers who prefer not to receive Storytime at this time still get monthly visits to exchange materials.
BOOKMOBILE
Coming soon! This Fall we will launch the new Calvert Library Bookmobile, our library on wheels bringing books, wifi, and programs for all ages to scheduled stops throughout the county. Stay tuned for our stop schedule and more details about how to use the Bookmobile.