Using Your Card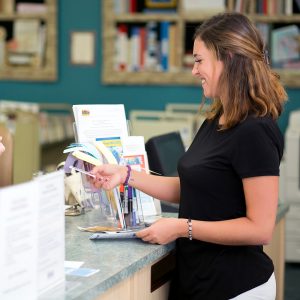 You can borrow and return materials to any public library in Calvert, Charles, and St. Mary's counties.
Find materials on COSMOS, the online catalog for library materials and services available in Southern Maryland.
Don't see what you're looking for in COSMOS? Check our premium online resources. Still looking? Make a request from Marina, the statewide system to request library materials not available in Southern Maryland.
Use the "Account" feature to view your library account, renew items and manage your holds. Sign-in using your library card number or create a personalized username and password.
Enhanced Account Access – Library Elf
Library Elf is a third-party web tool for keeping track of your or your family's library accounts. With Library Elf you can:
Track what's due, overdue, and ready for pickup
Track more than one library account through a single Library Elf log in
Receive additional notifications about your account
Designate additional email addresses to receive notices
Automatically add library reminders to your calendar