Using Your Card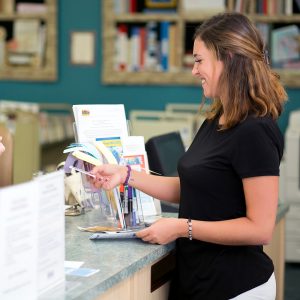 You can borrow and return materials to any public library in Calvert, Charles, and St. Mary's counties.
Find materials on COSMOS, the online catalog for library materials and services available in Southern Maryland.
Don't see what you're looking for in COSMOS? Check our premium online resources. Still looking? Make a request from Marina, the statewide system to request library materials not available in Southern Maryland.
Use the "Account" feature to view your library account, renew items and manage your holds. Sign-in using your library card number or create a personalized username and password.
Enhanced Account Access – Library Elf
Library Elf is an Internet-based tool for keeping track of what's due, overdue and ready for pickup. Users can keep track of one or more library accounts in one place and receive reminders (sometimes called pre-overdue or early notification). Reminders are sent by e-mail or text message when the user wants it — before items are due (up to seven days advance notice, weekly notice or everyday reminders). This service is particularly valuable for families or anyone who'd like reminders before an item is due.