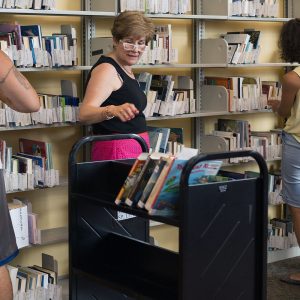 Books, Audiobooks, Movies, etc.
If space allows, Calvert Library appreciates donations of books, audiobooks on CD, and movies on DVD or Blu-ray that are in good, clean condition. All Calvert Library locations accept 3 bags or boxes at a time. Current items are especially appreciated.
We are not able to accept VHS tapes, audiobooks on cassette, encyclopedias, computer books, and textbooks.
To donate items, please bring them into the building during library hours, and ask a librarian where to leave them. Please see a librarian before leaving books. A book cart can be made available.
A donation receipt form is available upon request. The library does not keep a copy nor place a value on donated materials.
After reviewing donated items, librarians or volunteers will decide whether to add the items to the library collection, to sell them at the Friends of Calvert Library Book Sale, or to recycle the items. Find out more about our donation policy.
Time
Find out how to volunteer with us.
Funds
To donate or bequeath funds, please contact the Calvert Library Foundation, Inc.
Or join and donate to Friends of Calvert Library.
For information about our budget, see our annual reports.