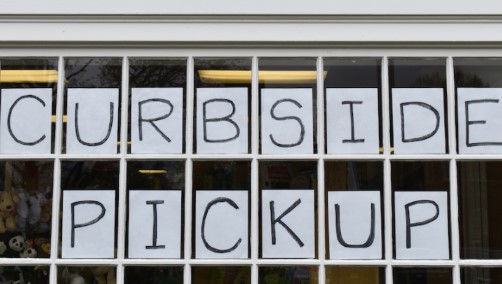 June 22 – Curbside pick up begins!
How do we keep our staff and customers safe you ask? We will be following CDC guidelines and quarantining all library materials for at least 72 hours. While materials are in quarantine, you will still see them on your account. No worries, remember Calvert Library has no fines! Once materials are released from quarantine, they will be checked in and sent on to their home library or to the next customer who has placed a hold.
Step-by-step guide to the curbside process:
Place items on hold.
Use our COSMOS catalog to search for items you would like to place on hold.
Place items on hold, and choose a Calvert Library location for pickup.
If you need assistance please call 410-535-0291.
Wait for notification then make a curbside pickup appointment.
You will receive a notification in your usual method (email, phone or text) when your hold is available for pickup. Please be patient as wait times for holds may be longer than usual due to the quarantine of materials.
Once you receive notification, visit our curbside pickup appointment page to reserve your pickup day/time. Please have your library card available.  Same day pickup is not available at this time.
Staff will checkout your items (with clean hands) and package them for pickup.
Pick up day/time
Table Pickup

You may park in any space NOT marked for Trunk Delivery.
Table pickup will be available in library vestibules.
In accordance with Governor Hogan's order a mask must be worn while inside.
Only one person may pick up materials at a time. If someone is already picking up their items, please wait at least 6' from the door or at least 6' from the next person waiting (there will be marks on the sidewalk).
Your items will be in a paper bag labeled with your last name on the table in the numbered space that matches your reservation.
Please deposit any returns in the book drop.

Trunk Delivery

If you are able, please choose a Table Pickup time slot so we can serve as many customers as possible. Thank you.
If you are able, please place all library returns in the book drop.
At your appointment time, please park in the space that matches your reservation (Trunk Delivery #1, #2, etc.) and "pop the trunk".
A library staff member will come out to your vehicle with your items in a paper bag, place them in your trunk and close your trunk.
If you have library materials to return and are unable to use the outside book drop, please place them in a closed, marked bag in your trunk for the librarian to take.
If you are early, please wait in a non-Trunk Delivery parking space until your time slot, as the labeled spaces will be used by other customers.
If you have questions please call your branch.
Enjoy your library materials!
Can you give reading suggestions? I will miss browsing!
craines
2020-06-09T11:53:52-04:00
There's nothing we love more! There are several ways to find books and other materials (physical or digital) that you will enjoy. We will soon be rolling out our NEW PS from Calvert Library-Personalized Suggestions! This service will enable you to fill out a short form and a librarian will send you a personalized list of books/materials we hope you will love!
Beanstack – Get book suggestions, read reviews, participate in challenges and log your books.
Books & Authors – New ways to explore the endless possibilities and combinations of books, authors, genres and topics.
Hot Authors – New Books – check out our quarterly hot author book list.
Librarians and Friends Book Lists – Calvert librarians and friends share their favorite books with you!
Next Reads  – eNewsletter for readers. Newsletters are available for over 22 popular fiction and nonfiction topics. Each newsletter contains between 8-15 titles.  Sign up
Novelist Plus – Electronic readers' advisory resource which assists fiction and non-fiction readers in finding new authors and titles
PS from Calvert Library-Personalized Suggestions based on your answers to questions about other books/movies you've liked
or just give us a call and ask us to check out a bag full of mysteries, romance, suspense, etc!