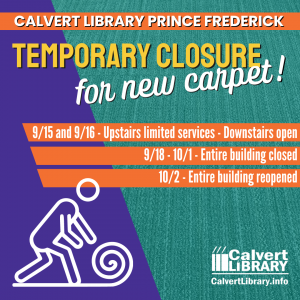 Exciting news from Calvert Library Prince Frederick! After 17 years, the library is getting new carpet, giving it a fresh new look. But, to make this happen, the library will be temporarily closed. From September 15 – 16, there will be limited services upstairs, while downstairs will remain open. After that, from September 17 – October 1, the whole building will be closed.
While you might have questions, don't worry! The FAQ section below can help or you can give us a call at 410-535-0291. We can't wait to show off the new look on October 2! So mark your calendars!
FAQ
What if I'd like to change the pick up location of my hold?
craines
2023-08-28T14:30:21-04:00
Only items with their pick-up location changed before 9/14 will be able to be moved. Calvert Library Prince Frederick will not send materials out in delivery between 9/18 and 10/1. Pick-up locations can be changed on the library website or by calling your local branch. Pick-up locations cannot be changed in the app at this time. On the website: To change a pick-up location before the closure log in to "My Account"  and choose Hold Requests from the menu. Check the box of the title you'd like to adjust or the check box to the left of the title to select your full list. Then click Change Pickup Location. Select the New Pick-up Location from the drop-down menu and click Submit.