Social Media Ambassadors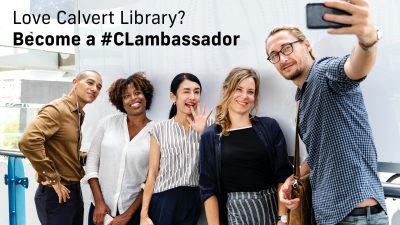 Calvert Library invites you to participate as we expand our social media community by becoming a Social Media Ambassador or #CLambassador. Social Media Ambassadors will be those community members who appreciate the inherent value of the library and are willing to help raise awareness of library services on social media.
Becoming a Social Media Ambassador
No application is necessary! Simply sign up to receive a short monthly #CLambassador News Flash via email. Calvert Library is looking for ambassadors on Facebook, Instagram, and Twitter. Each News Flash will include relevant hashtags and give a synopsis of current library initiatives.
What a Social Media Ambassador Does
In addition to reading the #CLambassador News Flash:
Share, like, and comment on Calvert Library's posts to help the library stay visible in our community.
Tell your Stories from the Stacks! Use social media to tell the world what you love about Calvert Library. Creativity is encouraged.
Use certain hashtags to promote library events and services. For example, any post having to do with a reading challenge would include the hashtag #calvertREADS- in addition to #CLambassador.
We understand that you have a busy life! Participate as much or as little as you are able. Every time you give a shout out to the library, we appreciate your effort!
Calvert Library Ambassadors
Please check the social media platforms you currently use.